Last week, education and safety officials from across the state elected the board members of the Missouri School Safety Association (MOSSA). 
The purposes of this statewide association include improving existing programs and promoting new programs of safety education in cooperation with public and private agencies as well as acquiring and disseminating accurate information concerning school safety, security, and health. 
This association hopes to bring members from all areas of safety and security together to provide a united voice on safety matters for public schools, private schools and higher education. 
Jerret Wheatley, Butler R-V Schools Board of Education member, was elected to Region A, which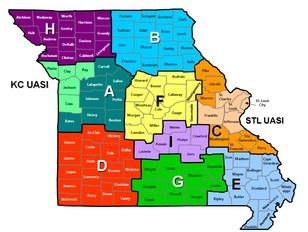 represents Carroll, Lafayette, Saline, Johnson, Pettis, Bates, Henry and Benton counties. 
Sara Jackson, a Middle Grove C-1 teacher, was elected to Region B, which represents Putnam, Schuyler, Scotland, Clark, Sullivan, Adair, Knox, Lewis, Linn, Macon, Shelby, Marion, Chariton, Randolph, Monroe and Ralls counties. 
Scott Mercer, assistant principal of Ste. Genevieve High School, was elected to Region C, which represents Pike, Lincoln, Warren, Washington, St. Francois, Ste. Genevieve and Perry counties. 
Karen McKnight, Nixa Public Schools executive director of special services, was elected to Region D, which represents Vernon, Barton, Jasper, Newton, McDonald, St. Clair, Cedar, Dade, Lawrence, Barry, Hickory, Polk, Greene, Christian, Stone, Taney, Dallas and Webster counties. 
Scott Ezell, safety coordinator for Sikeston R-6 schools, was elected to Region E, which represents Iron, Madison, Wayne, Butler, Ripley, Bollinger, Stoddard, Cape Girardeau, Scott, Mississippi, New Madrid, Pemiscot and Dunklin counties. 
William Kurtz, assistant principal and district safety coordinator for Camdenton R-III School District, was elected to Region F, which represents Howard, Boone, Audrain, Cooper, Moniteau, Morgan, Camden, Miller, Cole, Callaway, Osage, Gasconade and Montgomery counties. 
Luke Boyer, assistant superintendent of West Plains R-VII Schools, was elected to Region G, which represents Wright, Douglas, Ozark, Texas, Howell, Shannon, Oregon, Carter and Reynolds counties. 
Clarence Green, police chief of Northwest Missouri State University, was elected to Region H, which represents Atchison, Nodaway, Worth, Harrison, Mercer, Holt, Andrew, Gentry, Daviess, Grundy, Buchanan, Clinton, DeKalb, Caldwell and Livingston counties. 
Craig Reeves, assistant principal and safe schools coordinator at Lebanon High School, was elected to Region I, which represents Laclede, Pulaski, Maries, Phelps, Dent and Crawford counties. 
Ryan Hall, supervisor of safety and environmental services for Lee's Summit R-VII School District, was elected to the KC Region, which represents Platte, Clay, Ray, Jackson and Cass counties. 
Dr. Sharon Sevier, director of advocacy for the Missouri School Counselor Association, was elected to the STL Region, which represents St. Charles, St. Louis, St. Louis City, Franklin and Jefferson counties. 
Gerry Lee, president of the Springfield Public Schools Board of Education, will serve as secretary/treasurer for the state organization. 
This fall, members elected Zac Rantz, chief communication officer & safety coordinator from Nixa Public Schools, as president, and Ben Buening, assistant principal/athletic director and safety coordinator of Lewis County C-1 Schools, as vice president. 
"I'm excited because this board represents multiple viewpoints in the field of school safety and will use those viewpoints to develop plans and a focus for the organization to help us find those best practices and a common voice in the area of school safety," said Rantz. 
MOSSA is part of the Missouri School Boards' Association's Center for Education Safety.