JEFFERSON CITY, Mo. – The battle over right-to-work continues in the Show-Me State, as both sides look to sway voters as the controversial law looks primed to head to the ballot in 2018.
Earlier this month, union organizers managed to turn in more than 300,000 signatures on initiative petitions to get a referendum on the ballot, but now right-to-work supporters are taking the next step.
Americans for Prosperity, a pro-RTW group, launched the second in a series of mailers to Missourians this week, seeking to educate voters about the law. It's part of the organization's six-figure effort to spread their message, using digital video and display ads, direct mail, events, door-to-door canvassing, and phone banking.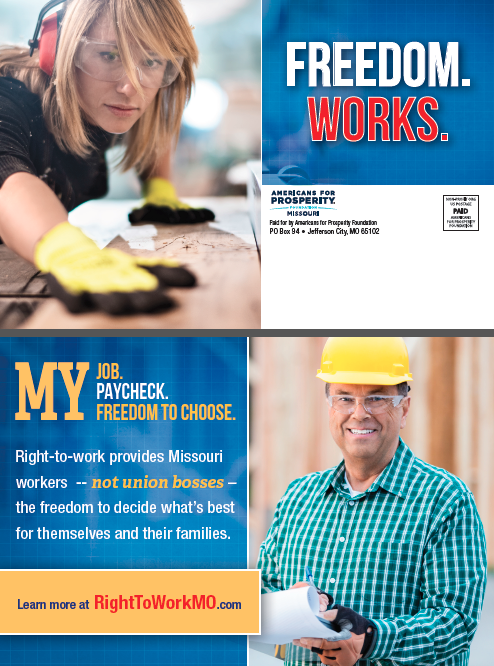 "Right-to-work is about workers, and we are proud to stand with the workers who now have the freedom to choose whether to pay union dues," AFP-Foundation Missouri State Director Jeremy Cady said in a statement. "Missouri workers have joined their colleagues in 27 other states in gaining the freedom to work without being forced to join or pay a union fee. Our mailer is just the latest in our effort to keep Missourians aware of the law and how it increases worker freedom."
SaveSave
Benjamin Peters was a reporter for The Missouri Times and Missouri Times Magazine and also produced the #MoLeg Podcast. He joined The Missouri Times in 2016 after working as a sports editor and TV news producer in mid-Missouri. Benjamin is a graduate of Missouri State University in Springfield.